Hail Damage Roofing Colorado
Is your Colorado roof damaged from hail storms, or do you need your roof repaired or replaced?
The reputable Colorado hail damage roofers at Frontier Restoration in Denver can provide expert help to repair or replace a roof that has suffered from hail damage. Frontier Roofing and Restoration, a renowned local roofing contractor serving metro Denver and the Colorado Front Range can help solve your roofing needs in the following ways:
Certified roofing inspectors and adjusters identifying hail damage
Insurance claims assistance experts
Leading roofing brands and products
Workmanship and manufacturer warranties
Quality craftmanship
Hailstorms are frequent occurrences in Colorado. The majority of hailstorms occur during the spring, summer or fall months, are concentrated in local areas, and usually do not cause extensive property damage. However, sometimes hailstones can be large enough to cause serious damage – usually 1.5 inches or more. When this happens, hailstones can cause significant property damage to your Colorado home's roofing, windows, and siding. When hailstones reach three inches in diameter, they can cause major roof damage.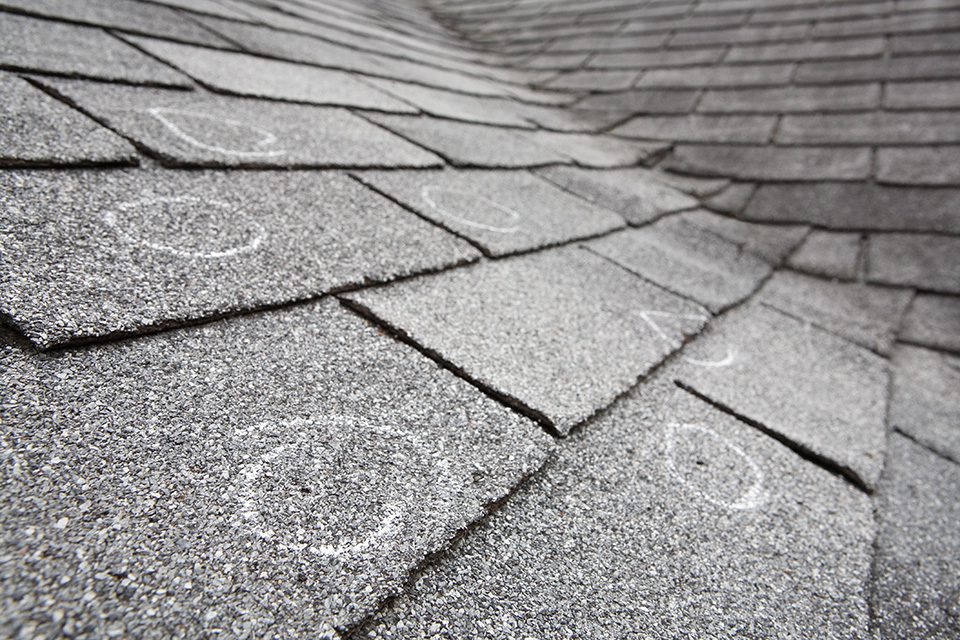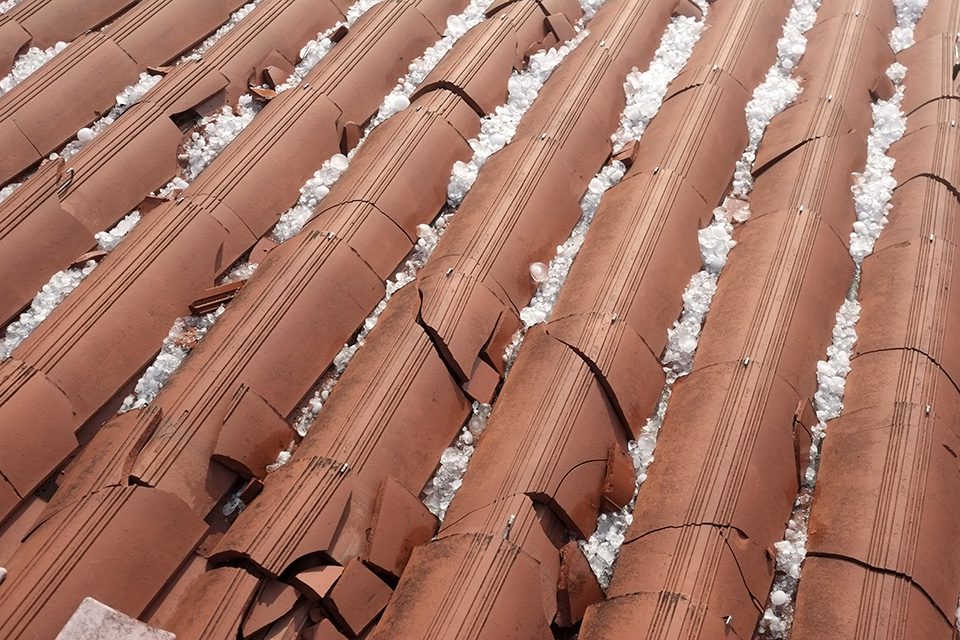 Colorado Roof Hail Damage – Signs of Damage to Roofs
In Colorado, the last few years has resulted in significant amounts of Denver roof hail damage. Denver homeowners need to be proactive in checking for hail damage on their roofs. While hail is common throughout the year in Colorado, in recent years above average hail storms have occurred in metro Denver. Some of these Colorado hail storms have produced baseball-sized hail, which is capable creating extensive damage to residential roofs throughout Denver and the surrounding suburbs.
How Hail Damages A Roof
Hail is dangerous to your Colorado home's roof because it decreases the roof's life expectancy.
Asphalt Roofs. Damage to the asphalt roof occurs when the protective granular surface of the asphalt shingle loosens and falls off. With the granules removed the shingle loses some of its protection, shortening the lifespan of the roof and making it more susceptible to additional damage.
Metal Roofs. Metal roofs are more hail resistant that asphalt roofs, but metal roofs can suffer cosmetic damage in the form of dents and damaged coatings.
Wood Shingle and Shake Roofs. Wood shingles and shakes are damaged by hail when the impact energy of a striking hailstone is enough to bust the wood, compromising one ply of the roofing and producing two narrow shingles (or shakes) each secured by only one fastener. A split reduces the life of the roof constituting roof damage. Occasionally, hailstones will puncture wood roofing and wood shakes.
Roofs that sustain hail damage do not always require immediate removal. If the roofing system is not repaired or replaced, over time the damaged shingles could develop into leaks allowing water seepage into the roof.
Identifying Hail Damage to Roofing in Colorado
Like most of the country, asphalt shingles are the primary roofing material used on Denver roofs and Colorado roofs in general. Below are some common signs your roof has been damaged by a hail storm:
Dents or bruising on the roof's asphalt shingle
Granules are missing from the shingle
Roofing shingles feel softer to the touch
Granules are present in the gutters or at the base of downspouts
Metal air vents, gutters and siding are damaged and dented
Roof Hail Damage Insurance Claim Experts
Q: Will my homeowner's insurance policy cover roof repair or roof replacement due to hail damage?
A: Some homeowner's policies will cover repairing your roof it it has experienced hail damage. Most often the roof is fully replaced instead of repaired. Roofs are replaced because the insurance company realizes the damage to your roof has decreased its life expectancy and its ability to protect against water damage. If your homeowner's policy covers hail damage and the insurance company accepts the claim, you are normally responsible for paying a deductible for the new roof.
If you are uncertain if your homeowner's insurance policy covers hail damage, review your homeowner policy paperwork, and contact your insurance company.
Tip: Beware of storm chasers going door to door in Denver neighborhoods right after a hail storm. Many of these companies are not licensed in Colorado, are not located in Colorado, require upfront payments, perform shoddy work, and are long gone if your roof experiences problems afterwards.
Check Out Our Work
See samples of our work in our Project Gallery.
We use the leading brands for materials including Boral, CertainTeed, DaVinci GAF, Owens Corning, TAMKO, and more!
When it comes to a commercial roof inspection, Frontier Restoration will deliver honest, professional, and high quality advice and customer service for your commercial roof project. Call us today at (303) 697-8550 for a free estimate and inspection!
CONTACT US
Frontier Restoration, LLC
Office: 303-697-8550
Fax: 303-697-8059 (fax)
Email: christa@fr-r.com