Gutter Installation & Replacement Colorado
We are gutter installation, replacement, and repair experts.
Residential and Commercial Gutters Colorado
Professional Service
Gutter Installation
Gutter Repair
Gutter Replacement
All Types and Styles of Gutters
Seamless Gutters
We install, replace, and repair seamless gutters 5 inches and larger.
Signs You May Need New Gutter & Downspouts Installation in Colorado
Overflowing rainwater – Leaves, pine needles, twigs and other kinds of organic debris are the usual culprits behind rainwater overflowing from your gutters. Other times, the capacity of your gutters might be to blame. If your gutters don't have enough capacity to handle the amount of rainfall your area receives, rainwater will inevitably overflow. You need to install a gutter system with a bigger capacity as soon as possible. Otherwise, the overflowing water might seep into your home's foundation.
Nails or broken fasteners on the ground – If your gutters can't handle the combined weight of rainwater and accumulated debris, nails and broken fasteners might start to give in and fall to the ground.
Sagging gutters – If the fasteners don't give in under the added weight load, sections of your gutters might. The problem with gutters that start to pull away from your exterior is that they impede the flow of water. Due to the gutters' tilted angle, water can get trapped in sections of your gutters, increasing the risk of mold and pest infestations.
Gutter leaks – In some cases, your gutters might give in completely. Under added weight load, sections of your gutters might start to pull apart at the seams, creating leaks. Spotting a gutter leak should be easy enough on a rainy day. You should also watch out for signs of moisture damage, such as a rotting fascia board (the long wooden board the gutters are attached to). Look for water stains inside your home (the first signs of roof water damage usually appear in your attic) or puddles near the downspouts or siding.
Dents – Tiny dents and cracks might not seem like a significant issue now, but wear and tear can widen cracks and deepen dents, eventually causing leaks. It's best to address relatively minor issues before they worsen, potentially affecting other parts of your home.
Hail – Well, we all know what the hail storms do to our gutters! Colorado is well-known for the spring storms that rush in and cause damage to our properties.
Rust – Rust usually appears at the bottom of aging gutters, although peeling paint is the usual cause of rust. That's because it leaves sections of your gutters exposed to the elements.
Prevent Ice Dams
Poor attic insulation and ventilation are the main culprits behind ice dams, clogged gutters can increase the risk of ice dams. Gutter Guards can partially reduce the risk of ice dams; however, there are other ways to prevent ice dams. Give us a call.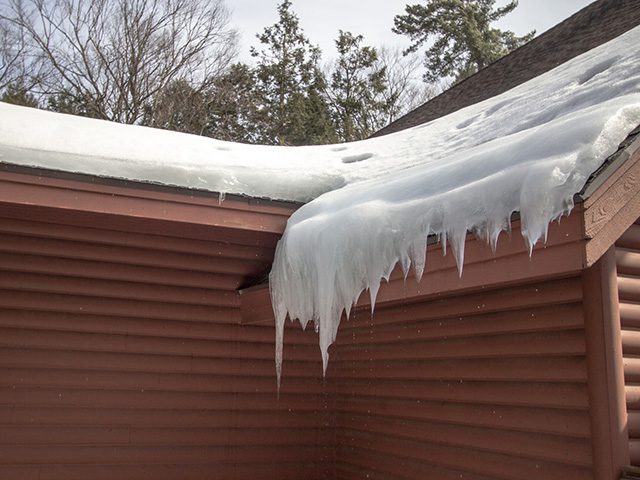 Check Out Our Work
See samples of our work in our Project Gallery.
We use the leading brands for materials including Boral, CertainTeed, DaVinci GAF, Owens Corning, TAMKO, and more!
When it comes to gutters installation and replacement, Frontier Restoration will deliver honest, professional, and high quality advice and customer service for your gutter project. Call us today at (303) 697-8550 for a free estimate and inspection!
CONTACT US
Frontier Restoration, LLC
Office: 303-697-8550
Fax: 303-697-8059 (fax)
Email: christa@fr-r.com