Commercial Roofing Contractors Colorado
Frontier Restoration, Colorado Commercial Roofing Contractors, specializes in commercial roofing repair, restoration, and replacement; along with offering commercial consultation. We work on single-ply roofing systems, such as EPDM, TPO, and PVC; along with BUR and multi-ply hot asphalt and cold adhesive systems.
Contact our commercial roofing specialists in Colorado today for a free quote and inspection.
We can inspect and repair your roof whether it is made of:
Asphalt Roofing Shingles
Metal Roofing
Slate Roofs
Tile Roofs
Wood Shake Shingles
Standing Seam Metal Roofing
Built-Up Roofing Systems
Modified Bitumen
EPDM Rubber
PVC & TPO
Single Ply Membrane
Sloped Roofs
Taper systems for flat roofs
Detailed Commercial Roof Project Scopes
Our Colorado commercial roofing division provides you with detailed project scopes allowing for a comprehensive cost-benefit analysis on each potential commercial roofing project.
As a trusted commercial roofing expert, we are preferred contractors with many of the major roofing supply manufacturers including Boral, CertainTeed, DaVinci, GAF, Owens Corning, TAMKO and more. We are approved by manufacturers to apply and install the many roofing systems offered by each of them, which means you are eligible for their warranty guarantees. Many commercial contractors will tell you they are qualified to install you roof; however, make sure they are preferred and eligible to offer you the warranty/guarantee; otherwise, you won't get what you're paying for.
Common Commercial Roofing Issues
No matter what type of roofing system your commercial building has, it can still face unique challenges that can quickly turn into problems or leaks in your building. You'll know it's time to call a professional for flat roofing repairs when you notice any of the following issues:
Roof leaks
Low spots or ponding water
Material warping
Seam gaps
Accumulated debris
Water damage inside your building
Whether you need emergency flat roofing repairs or planned ones, Frontier Restoration is there for a quick to response and fix any issues on your roof. We have a repair solution that works whether you have EPDM roofing, built-up roofing (BUR), TPO or single-ply roofing or any other type of roofing material. Get in touch with us today to schedule your roofing estimate.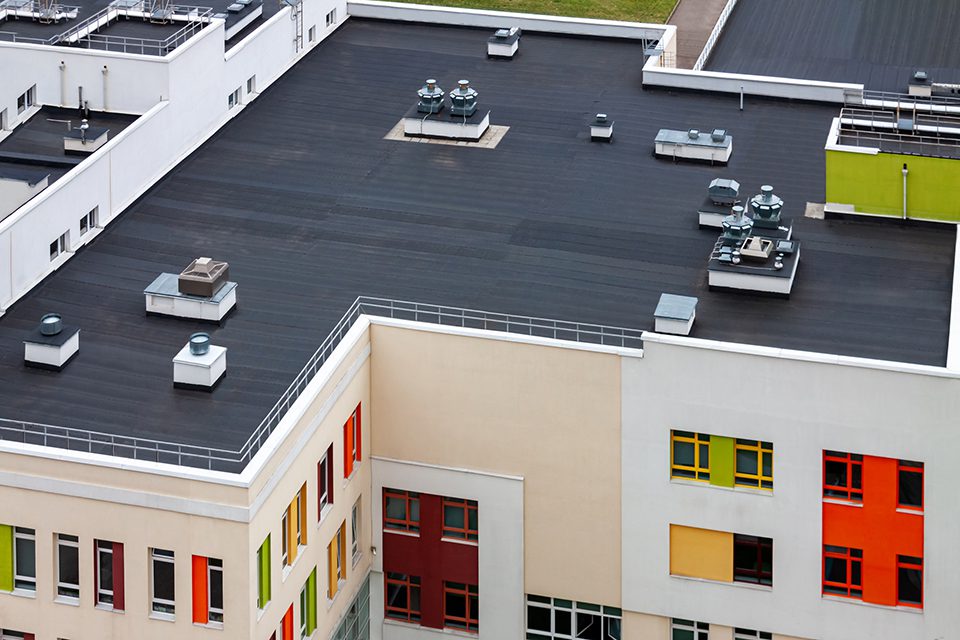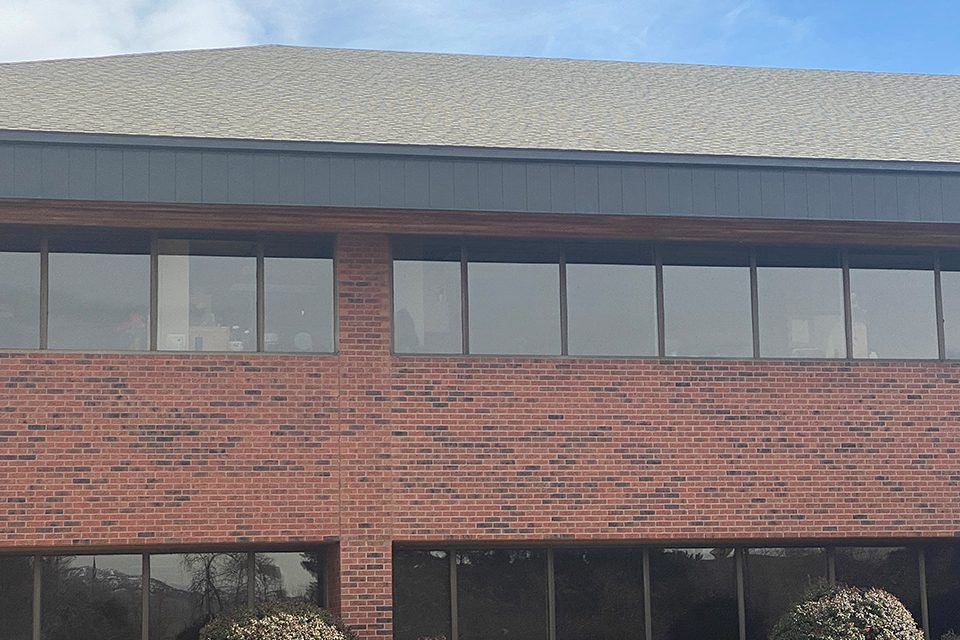 How Do I Know What the Best Roof Product Is?
When you work with a professional, certified roofing contractor like Frontier Restoration for flat roof leak repair, we use roof repair materials from some of the major manufacturers in the roofing business.
The best product to repair a roof depends on the roofing system and the type of repair needed. Sometimes, flat roofing repairs are an easy fix. Call Frontier Restoration to set up a roof inspection.
Other times, repairing the roof from leaks, seam gaps, or material warping requires more advanced and complete repair techniques. One option may be flat roof coating to restore your roof to leak-free condition. Luckily Frontier Restoration is well-versed in several types of roof coatings.
How Do I Stay On Top of My Commercial Roofing Repairs?
Of course, Preventative Maintenance is the best way to stay on top of roofing repairs before problems become significant. Seasonal maintenance is best for your roof; we recommend a once-a-year inspection at the very least, preferably six months. By staying on top of your roofing repairs with a roof maintenance plan from Frontier Restoration, you'll likely save money. Fixing smaller issues as they happen is more cost-effective than waiting for a more extensive roof catastrophe.
In addition, regular roofing maintenance can extend the expected lifespan of your roof. Whether it's 30-, 20-, or 15-years, proactive roof maintenance can help exceed your roof's anticipated lifespan. Plus, you'll save money.
Do I Need a Commercial Roof Replacement or Repair?
With regular maintenance using Frontier's roof maintenance and repair plan, you'll be able to stay on top of your roofing repairs. However, at some point, it might be more cost-effective to do a flat roof replacement than to keep repairing these minor issues after every little storm.
Suppose you've been experiencing regular leaks that are getting worse and ruining areas of your building interior or suffered significant damage from a strong storm. In that case, a commercial roof replacement might be the best option for you. It's best to contact us, a professional roofing contractor, to evaluate your flat roofing repair frequency and see if a replacement is necessary.
Check Out Our Work
See samples of our work in our Project Gallery.
We use the leading brands for materials including Boral, CertainTeed, DaVinci GAF, Owens Corning, TAMKO, and more!
When it comes to a commercial roof installation or replacement, Frontier Restoration will deliver honest, professional, and high quality advice and customer service for your commercial roof project. Call us today at (303) 697-8550 for a free estimate and inspection!
CONTACT US
Frontier Restoration, LLC
Office: 303-697-8550
Fax: 303-697-8059 (fax)
Email: christa@fr-r.com
Schedule Your FREE Estimate Today