Why Get Green or Cool Roofing in Colorado?
There are multiple reasons homeowners and business should get green or 'cool' roofing in Colorado.
Americans spend about $40 billion annually to air condition buildings – sixth of all electricity generated in this country. A "cool" roof or wall reflects and emits the sun's heat back to the sky instead of transferring it to the building below. This can lower roof surface temperature by up to 50F, decreasing the amount of heat transferred into a building. Reflective roofing products can help reduce the amount of air conditioning needed in buildings, and can reduce peak cooling demand by 10-15 percent.
Cool Roof Rating Council
The Cool Roof Rating Council provides excellent guides about cool roofing.
Learn more by visiting "What is a Cool Roof?" and "What is a Cool Exterior Wall?"
Understanding the Solar Reflectance Index: A Calculated Value Brochure
Provides general information about how Solar Reflectance Index (SRI) is calculated and interpreted. Download Brochure
What is a High-Performance Roof System? Nonresidential Buildings with Low-Sloped Roofs
Provides an overview of high-performance roof systems and their impacts. Download Brochure
CRRC Cool Roof Energy Savings Brochure
Provides general information on the factors that influence the energy savings of a cool roof. Download Brochure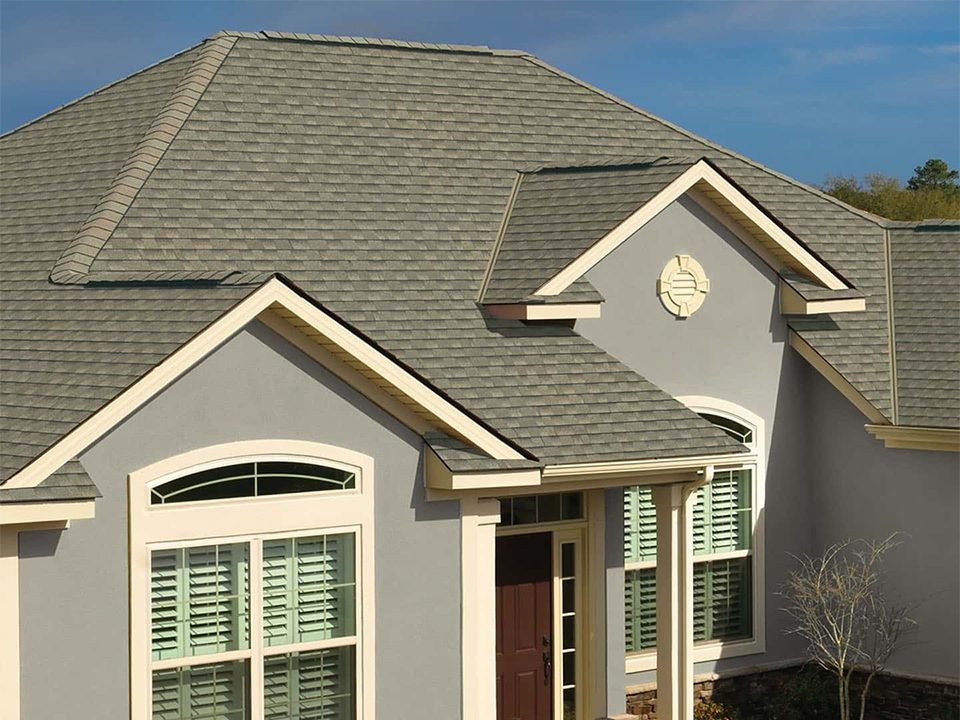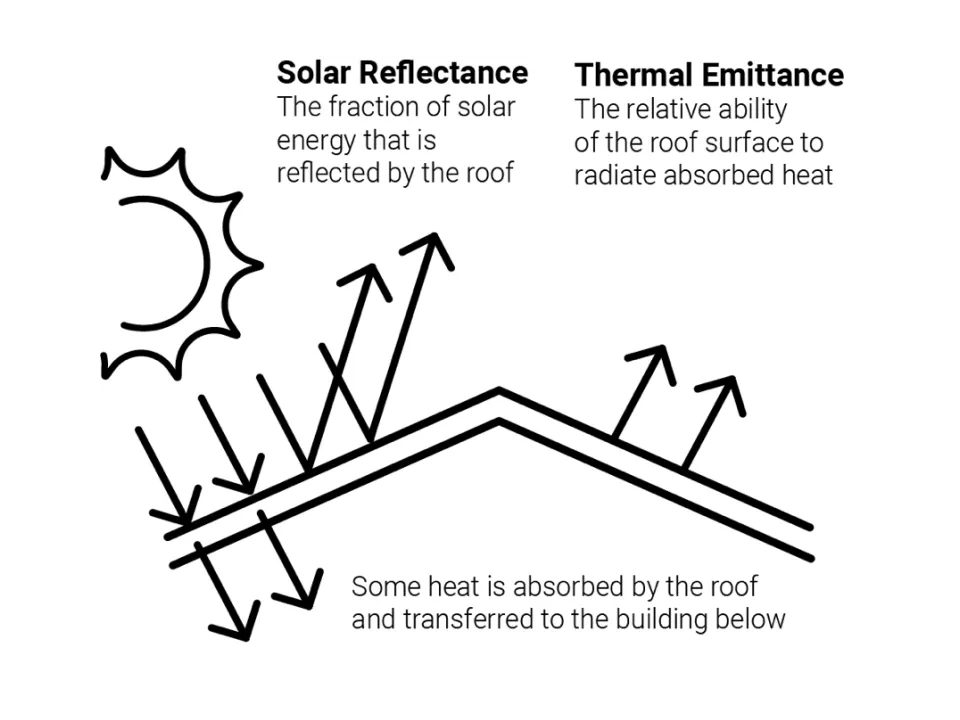 Why Stay COOL?
COMPLIANT WITH CALIFORNIA'S TITLE 24, PART 6 COOL ROOF REQUIREMENTS

POTENTIALLY SAVE HOME ENERGY CONSUMPTION AND CO2 EMISSION

COOL Roofs can contribute to lower home energy costs by keeping your roof cooler throughout the year. Combined with the fact that sunlight is directly reflected back at the sun, COOL Roofs can positively impact the environment with lower CO2 emissions.

LONGER LASTING ROOFS

Extend the life of the roof – thanks to solar-reflecting granules that reduce shingle temperature and subsequently, slow asphalt aging.

WIDE ARRANGE OF COLORS

Save energy and look great at the same time. The COOL Roof Collection has a variety of deep colors that are unexpected of solar reflective shingles which tend to be lighter-in-color.
Benefits of Green "Cool" Roofing in Colorado
Save Money
A building with a cool roof and/or walls can significantly reduce a building's cooling costs by lowering the need for air conditioning, especially in warmer climates. The average energy savings for a cool roof range between 7% to 15% of total cooling costs. A cool roof can also help prolong the life of an air conditioning system by reducing the strain on the system during hotter times of the day and year.
For air-conditioned buildings, cool exterior walls can reduce annual HVAC energy use in single family homes between 3% and 25%, medium offices between 0.5% and 3.7%, and stand-alone retail stores up to 9%.
Reduce Air Conditioner Use
A cool roof and wall decrease a building's air conditioning use by reducing the amount of heat that enters into the building. In urban areas, the combination of many cool roofs can also help reduce air conditioning use by reflecting solar radiation away from buildings, which helps lower the surrounding outdoor air temperature. Therefore, with cooler daytime temperatures, buildings and vehicles use less air conditioning, which saves energy and reduces carbon dioxide emissions from electricity-generating power plants.
Lower Indoor Air Temperature
For buildings without air conditioning, cool roofs and walls help the inside of the building feel cooler and more comfortable during hot months.
Reduce Peak Energy and Improve Grid Stability
Since cool roofs and solar reflective-walls reduce air conditioning use during the hottest periods of the day, the associated energy savings occur when the demand for electricity is at its peak. Therefore, cool roofs and walls reduce the stress on the energy grid during hot summer months and helps avoid shortages that can cause blackouts or brownouts. In addition, building owners that pay for energy based on the time of use are able to save energy when it is at its most expensive.
Combat Climate Change
Cool roofs and walls directly reduce greenhouse gas emissions by lowering the energy demand from air conditioning, which results in fewer carbon dioxide (CO2) emissions from power plants. Cool roofs and walls also cool the world independently of avoided carbon emissions by reflecting the sun's energy back to the atmosphere, thereby mitigating global warming. A Lawrence Berkeley National Laboratory study found that world-wide reflective roofing will produce a global cooling effect equivalent to offsetting 24 gigatons of CO2 over the lifetime of the roofs. This equates to $600 billion in savings from CO2 emissions reduction.
Mitigate the Urban Heat Island
Cities can be 1–7°F warmer during the day and 2–5°F warmer at night than in rural areas, due to heat-absorbing materials, such as dark roofs and pavements (US EPA). This phenomenon, called the urban heat island effect, creates islands of heat within urban areas where higher temperatures are sustained for longer than surrounding areas because of a lack of vegetation and darker, heat-absorbing surfaces. By immediately reflecting solar radiation back into the atmosphere and re-emitting some portion of it as infrared light, cool roofs and walls result in cooler air temperatures for the urban environment during hot summer months.
Reduce Smog
Cool roofs and walls improve air quality by slowing the formation of ground-level ozone, the main component in smog. Smog is created by photochemical reactions of air pollutants and these reactions increase at higher temperatures. Therefore, by reducing the outdoor ambient air temperature, cool roofs and walls decrease the rate of ground-level ozone that contributes to smog formation.
Improve Public Health
Lower ambient air temperatures and improved air quality also result in a reduction in heat-related and smog-related health issues, including heat stroke and asthma. Lower outdoor and indoor temperatures also help prevent heat-related deaths during heat waves. This is particularly important for cities that are experiencing an increased number of extreme heat events each year, as well as cities that lack the necessary infrastructure (e.g., air-conditioned homes, cooling centers) and/or awareness of how to behave and acclimate to extreme heat.
Green Roofing Brands in Colorado
All of the major roofing brands we use have energy efficient products that can provide your home with a beautiful style, energy savings, and tax credits. Get your Green Roofing in Colorado today!
Boral
Boral Energy Efficient Roof System.
CertainTeed
CertainTeed Corporation has several solar reflective shingles to choose from in various style and color options to suit a range of different home styles and elevations.
The Landmark Solaris series, featuring Landmark Solaris®, Landmark Solaris® Gold and Landmark Solaris® Platinum, is available in several popular ENERGY STAR® rated color options, which are virtually indistinguishable from the CertainTeed Landmark shingle that has recently been rated a consumer "best buy" from a highly respected consumer publication. The Landmark Solaris® Platinum solar reflective shingles represent an industry breakthrough in technology achieving a level of 40% solar reflectivity, by far the highest level of reflectivity in the asphalt shingle industry.
GAF
GAF offers the Timberline® HD Shingles for potential energy savings and tax credits.
The Cool Series roofing shingles have modern reflective technology that helps reduced temperatures in house attics, so homes stay cooler in the summer and save on air conditioning costs.
The Cool Series shingles use specially-designed roofing granules that have greater reflectance than traditional shingles. Transfer of heat is minimized to the space below – keeping your home cooler in the summer.
DaVinci
DaVinci's EcoBlend polymer roofing tiles from DaVinci Roofscapes are tile roofing that is ENERGY STAR® compliant.
Owens Corning
Owens Corning Roofing developed Duration® Premium Cool Shingles, which utilize granule technology to reflect the sun's rays to help keep roofs cooler, resulting in a more comfortable and energy-efficient living space below along with additional benefits. We also have taken the Owens Corning Shingle Recycling.

TAMKO
TAMKO ENERGYSTAR roof products have the reflectivity of "cool" roofing coupled asphalt shingle affordability. This provides consumers with several options to put energy efficient roofing on their home.
TAMKO's Heritage® series laminated asphalt shingles and shingle accessories in Glacier White and TAMKO's Elite Glass-Seal® 3-Tab asphalt shingles in White and Glacier White are now ENERGY STAR® qualified for their ability to reflect a portion of the sun's rays, potentially lowering the amount of energy needed to cool a home. Additionally, both products have also been rated by the Cool Roof Rating Council (CRRC).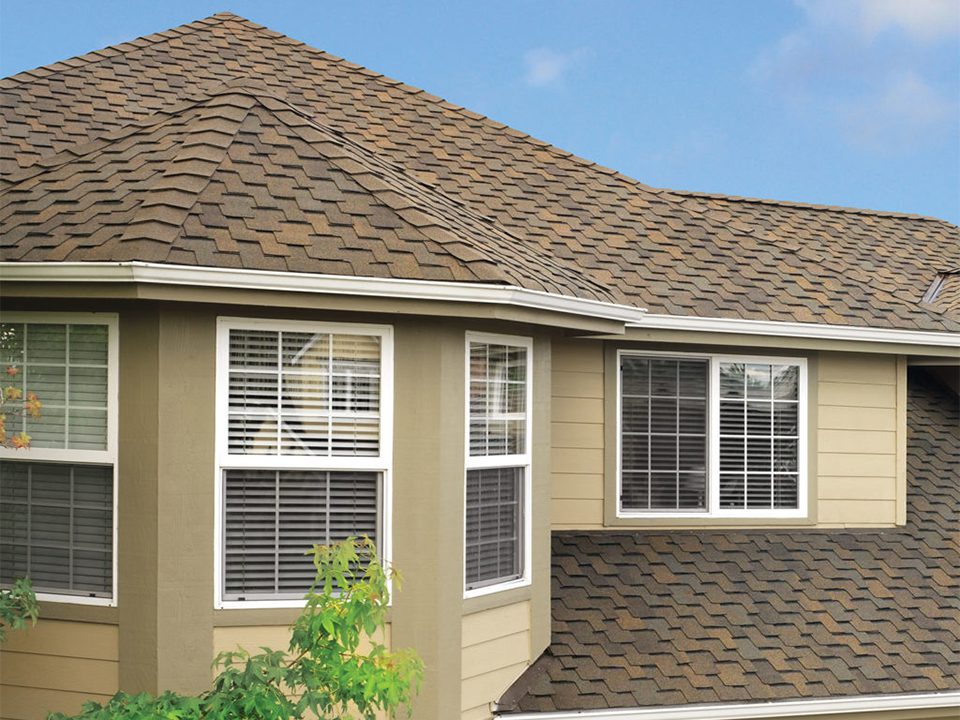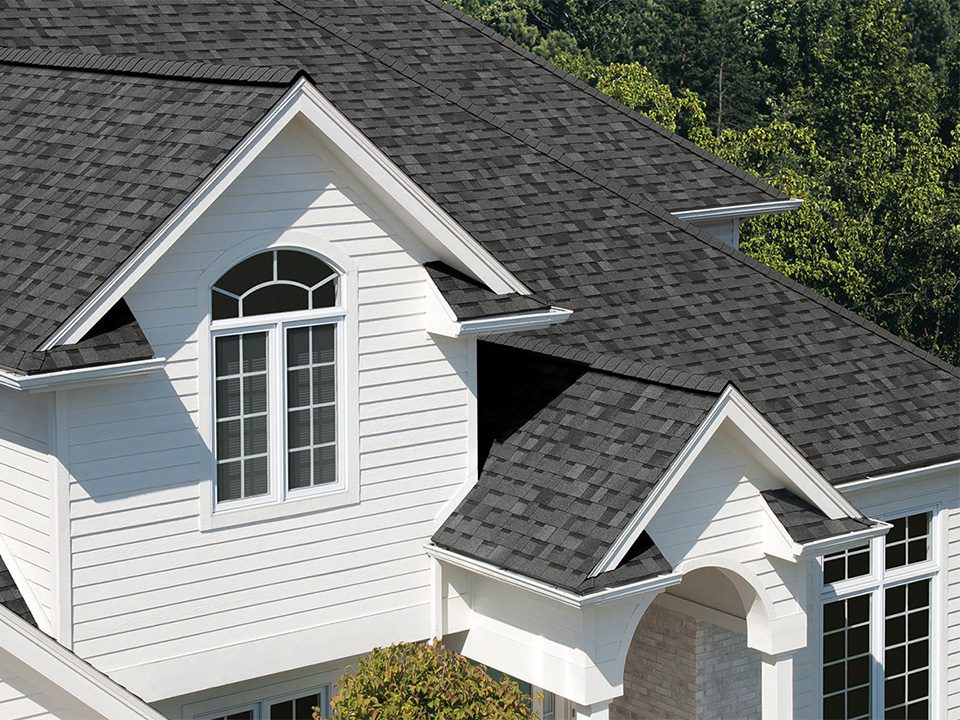 Check Out Our Work
See samples of our work in our Project Gallery.
We use the leading brands for materials including Boral, CertainTeed, DaVinci GAF, Owens Corning, TAMKO, and more!
When it comes to a commercial roof inspection, Frontier Restoration will deliver honest, professional, and high quality advice and customer service for your commercial roof project. Call us today at (303) 697-8550 for a free estimate and inspection!
CONTACT US
Frontier Restoration, LLC
Office: 303-697-8550
Fax: 303-697-8059 (fax)
Email: christa@fr-r.com
Schedule Your FREE Estimate Today