Professional Associations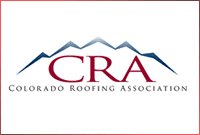 Colorado Roofing Association's goal is to educate homeowners and commercial building owners on making an informed decision about replacing and maintaining their roof systems. Colorado Roofing Association members must show a business license showing that the company has been in operation for a minimum of one year, a current Colorado Worker's Compensation Certificate reflecting roofing or sheet metal classification, a certificate of insurance showing general liability protection of at least $500,000.00. Members sign and abide by the CRA Code of Ethics.
A BBB Accredited Business since 06/29/2004. BBB has determined that Frontier Restoration, LLC meets BBB accreditation standards, which include a commitment to make a good faith effort to resolve any consumer complaints. View our BBB Report.
Roofs to Roads Colorado is Paving the Way for Asphalt Shingle Recycling and Re-Use in Colorado. Their goals are to keep 100% of Colorado's Waste Shingles Out of the Landfill (240,000 TONS of asphalt shingles landfilled EVERY YEAR in Colorado, 12 million tons nationally)! Shingles are ground and re-used in asphalt mixes for paving roads. Establish an ongoing market, with municipalities and CDOT writing specifications that allow or mandate the use of Recycled Asphalt Shingles (RAS) from Tear-Off or demolition shingles.
CONTACT INFO
Frontier Restoration, LLC
11757 W Ken Caryl Ave., #305
Littleton, CO 80127
303-697-8550 (phone)
303-697-8059 (fax)